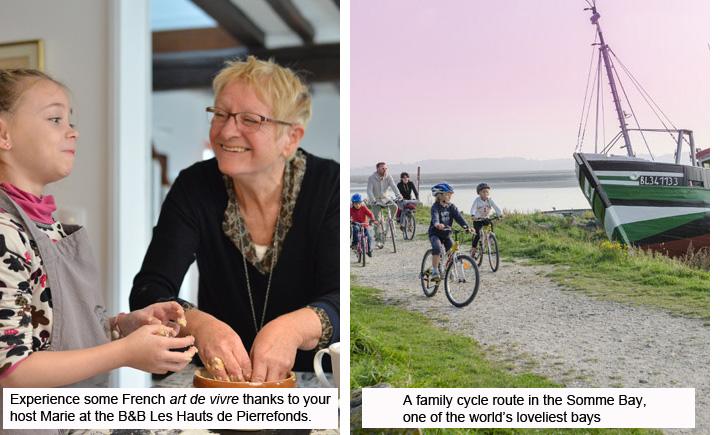 The power of trees and fresh air
Start your cycle route in the forest of Compiègne at the Carrefour Royal, near the Château de Compiègne. A few turns of the pedals and you'll be filled with the sensation of freedom. Breathe in deeply and enjoy this pure air, which has 11,500 times fewer germs than London shops! Your exploring will take you to the 750-year-old Saint Jean oak (just follow the 'Le chêne Saint-Jean' sign from Rue des Meuniers in Saint-Jean-aux-Bois). Put your arms around this remarkable specimen – it will do you good and make the kids laugh too! See if you can spot a deer or two, and listen out for birdsong and leaves rustling in the breeze.
Driving to France means you can bring your own bikes, or there are bike hire firms in the lovely town of Compiègne. Vincent Penot of Picardie Forêts Vertes, for instance, can suggest family cycle routes in the forest of Compiègne. One option is to take a circular route from Compiégne to explore 'Merlin's Castle' — as the fairytale-like Château de Pierrefonds appeared in the BBC drama. Pick up picnic supplies at Pierrefonds' Boulangerie Pâtisserie Bigot and amble around this pretty town with its lake with swan-shaped pedaloes.
You can stay at the B&B Les Hauts de Pierrefonds or glamp in nature, at Pierrefonds' Camping le Cœur de la Forêt, where quirky accommodation includes La Cachette de Fredo, a Hobbit-inspired wooden cabin sleeping five.