What is art deco?
Born in France, art deco began in 1908, but it's progress was interrupted by WW1. In 1925, the style was consecrated at the international exhibition of decorative arts in Paris, it was to fizzle out in the 1930s. Art deco is a merging of art of various influences: antiquity, cubism, the arts of Africa and the Far East.
Art deco – not just a style, a way of life
Saint-Quentin, listed town of Art and History, is the perfect town for immersing yourself in the cultural heritage of France. After WW1, it was the beginning of the roaring twenties. Saint-Quentin, which needed restoration and had a desire to break with the past, turned to modernism, purity of forms and reinforced concrete. The genre of art deco is beautifully represented in the town's streets with outstanding buildings such as the Post Office with its grand hall, Le Carillon Cinema, the lanterns of the Pont d'Isle and the Conservatoire de Musique et de Théâtre. There are about 3,000 art deco facades in Saint-Quentin! Go to rue de le Sellerie, you'll find all the art deco trends in Saint-Quentin are there.
French cuisine and French savoir-faire
Foodies will love Saint-Quentin's friendly café lifestyle - there are loads of superb restaurants and bars that the locals are proud to share with you. Gastronomy truly is at the heart of cultural holidays in northern France.
Enjoy a lunch at restaurant Villa d'Isle in a charming 18th century building with a light and airy art deco interior (reservation in advance is essential).
To plunge into the French savoir-faire, take a break at the retro café Les Biscuits Mademoiselle, inside a traditional biscuit factory, where the music and style transport you back to the roaring twenties. The cakes and biscuits made with local artisan products will make you sigh with happiness.
Saint-Quentin with its Gothic basilica and 3,000 Art Deco façades.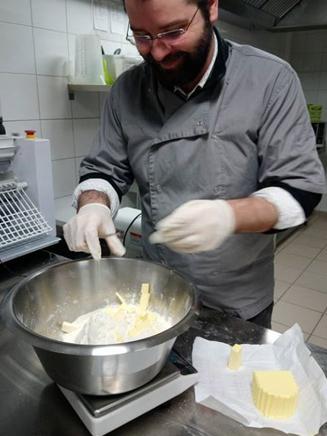 Les Biscuits Mademoiselle: the art of tea English-style, with scones made by Mathieu.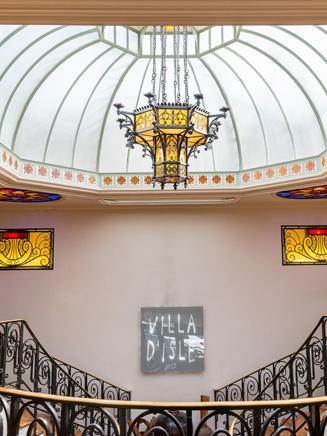 Simple but refined cooking amidst Art Nouveau and Art Deco style interiors at La Villa d'Isle.
© X.Renoux