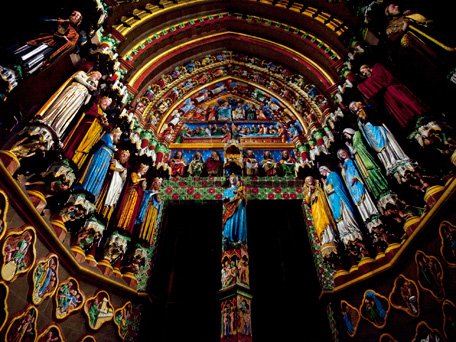 When Amiens' 13th-century Gothic cathedral is lit up at nightfall, from mid-June to mid-September and during the Christmas season, visitors can gain a full understanding of how its gorgeous facade looked in medieval times – as a sea of vibrant colours. 
The medieval stone saints, apostles and other figures and their clothing come vividly to life, accompanied by atmospheric music.
But any time of year, visitors spend hours studying the extraordinary early-13th-century Gothic sculpture on the cathedral's main facade and in its south transept, which include fascinating and sometimes comical scenes of everyday vices and virtues. There are also 22 statues of kings on the upper galleries above the western portals. Here, too, you can admire France's best-preserved rose window, dating from the 16th century.
One of six Gothic cathedrals in Northern France, the Basilique Cathédrale Notre-Dame d'Amiens is the largest in France by height and interior volume – Paris' Notre-Dame could fit into it twice over.  Yet despite its vast size, it was built rapidly by cathedral standards, between 1220 and 1266 – a fact that has accorded it a remarkable unity of style.  
Inside, the light-flooded structure with its 126 slender pillars has a seemingly weightless three-tier elevation that represents the apogee of the movement towards a self-sustaining skeletal architecture. Highlights within the structure include the 17th-century sculpture of a weeping angel on a tomb in the ambulatory, behind the high altar – this figure became popular on postcards sent home to their families by soldiers in World War I. 
Don't miss the carved stalls and Flamboyant Gothic choir screen either; made by local artisans in the early 16th century, the stalls are elaborately carved with around 3,500 figures.  The cathedral also houses important artworks dating from every era since its construction, including 17th-century baroque paintings by the likes of Frans II Francken and Laurent de La Hyre.
Restored by Viollet-le-Duc in the 19th century and painted by the Impressionist artist  Claude Monet more than 30 times, Notre-Dame d'Amiens was lucky to escape serious damage in the heavy fighting that took place around Amiens during both world wars and was listed as a UNESCO World Heritage site in 1981. Guided tours can help you to discover its compelling history, as can audio-guides in English and other languages