Uncover Secret France
Handpicked experiences you'll love
just across the Channel
Immerse yourself in the
French art de vivre
in northern France

New & FREE!
Northern France Secrets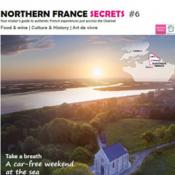 Your insider's guide to authentic French experiences in Northern France
In northern France,
We put our in-depth knowledge of the region to use by creating unique and personalised experiences for our British visitors. Live a moment you will never forget. A bientôt
Contact us
Any questions? Give us a call, we speak English!
+33 3 2222 3394