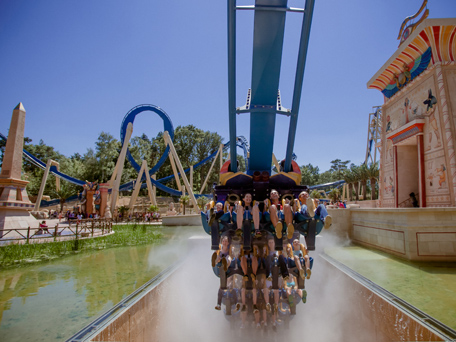 Visit the Parc Astérix, a theme park based on the world-famous, much-loved books by Albert Uderzo and René Goscinny. 
Treat the kids and create shared memories at a uniquely French theme park with family and adrenaline rides, then discover a fairytale medieval castle and explore a spellbinding forest by bike.
Parc Astérix is unlike any other theme park in the world – therein lie both its strength and its charm. Based mainly on the famous Astérix stories but also embracing historic cultures – the Romans, ancient Greeks, Vikings and Egyptians – it assures visitors a dose of history along with their belly laughs… Don't miss the shows, which include a fabulous Gauls versus Romans 'Match' in the Arena, featuring a hilarious dance-off.
Despite its Gallic theme, Parc Astérix is accessible to all, with English spoken by staff throughout, together with buggy parks, highchairs and kids' menus for young families.
The best eatery is the outlandish, fruit-and-vegetable themed Restaurant du Lac serving the Gallic and Roman likes of wild boar brochettes and Julius Caesar salad. This theme park is also easy to reach, with its own exit off the A1 motorway between Paris and Lille. Meeting up again at the on-site Hôtel des Trois Hiboux (which has its own entrance to the Parc), you'll discover stylish, nature-themed rooms with terraces or balconies overlooking the woods, a play room, a games room and magic shows.
Just over 20 miles north of Paris, it offers rollercoasters and rides for all ages, based on different civilisations including Ancient Gauls, Romans, ancient Greeks, Vikings and Egyptians. The park is open from April to October, daily from 10am to 6pm, and there's a family-friendly on-site hotel, the forest-set Hôtel des Trois Hiboux.
Parc Astérix
F-60128 Plailly
Tel: +33(0)826 46 66 26