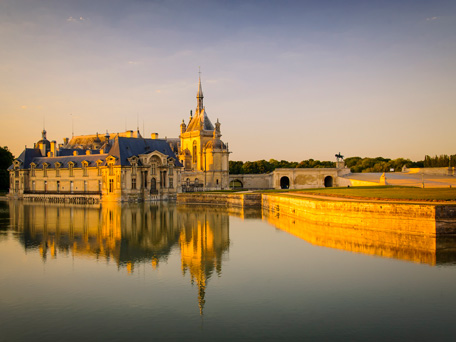 Like something out of a fairytale, a picture-book or a movie – indeed many visitors will recognise it from the Bond film A View to a Kill – the spectacular Château de Chantilly has its origins in the 1400s. 
Rebuilt in the 1870s after being destroyed during the French Revolution, it's home to the imperial apartments with their period decor but also to the superb Musée de Condé – an art museum with a pre-Impressionist collection second only in France to that of the Louvre in Paris. 
Amassed by the Duc d'Aumale, son of France's last king Louis-Philippe, the Musée's splendid displays include works by Raphael, Poussin, Watteau and Ingres among many others.  Audio-guides will take you through the collection at your own pace, as well as through the succession of apartments with their extraordinary decorations and furniture (some of it brought here from Versailles) and into the dramatic circular chapel where the hearts of the Princes of Condé are interred.
You can also book a guided tour of the Duc and Duchesse's private apartments. Cosier than the imperial apartments, they show the human side of life in the castle – they include the couple's own bathrooms, complete with original tubs, and the room where the Duc spent the end of his life, surrounded by photographs of his deceased wife and children.
The vast parkland surrounding the château – which you can explore on foot, by mini-train or golf cart (both seasonal), or even by horseback – includes a delightful formal French parterre with statuary created by André Le Notre, famed for his landscape design at  Versailles.  Also amidst the estate's 7,800 hectares you'll come upon English-style gardens, woods, birdlife and beehives.  
Don't miss the  'hamlet' (Hameau) of half-timbered cottages – its cosy restaurant is the best place to try authentic Chantilly cream, beside a gurgling steam. Other must-sees are the poetic Maison de Sylvie, a charming 17th-century house that you can view from the exterior, a temple of Venus, and the Ile d'Amour or 'island of love', with a smaller Venus. 
The domain even has a kangaroo enclosure including a rare albino, Ice. It's in the Petit Parc, an amusement area created for the Duke of Bourbon for his guests and also featuring a unique life-size game of snakes and ladders that has been recently restored. 
Château de Chantilly
F-60500 Chantilly
Tel: +33 (0)3 44 27 31 80