On September, come and hunt for bargains in Lille, host to Europe's biggest flea market.
A mighty 2 million bargain-hunters will browse the stalls at Europe's largest flea market, where around 10,000 exhibitors will display their wares over an area covering 100km of pavements. Dealers will be on site from 8am on Saturday to 11pm on Sunday, leaving you plenty of time to get into the convivial flea market spirit by rummaging, haggling and bagging a good deal.
How to get a good deal at Lille flea market
Stalls are divided into discrete areas. The car-boot salers with their bric à brac, records, CDs and books will be on the smaller streets. The crafts dealers will display their hand-made and ethnic wares on the larger avenues, and the antiques dealers will set up shop all along the Boulevard Louis XIV and Boulevard de la Liberté. And lastly, there will be dealers specialising in British antiques between the Porte de Roubaix and the Opéra.
Lille events, its flea market and the famous moules-frites
Much to the delight of foodies visiting Lille for the flea market, Dutch mussels and Baie du Mont-Saint-Michel AOP (Appellation d'origine protégée – the French certification for regional produce) mussels grown on wooden poles feature on many of the city's restaurant menus. In fact, Lille moules-frites will be eaten by the ton over the course of the weekend, generally served in skillets holding 1kg of mussels.
What to see and do in Lille
Palais des Beaux-Arts de Lille: One of the best French art museums, with paintings by Rubens, Van Dyck, Goya, Delacroix, David and others.
La Vieille Bourse (Old Stock Exchange) is the city's most beautiful monument. 
LaM displays more than 4,500 masterpieces from the 20th and 21st centuries.
Lille Citadel was built on the orders of Louis XIV.
The Hôtel de Ville and its belfry. Lille's city hall was inspired by triangular-gabled Flemish houses, while its belfry is UNESCO World Heritage listed. 
The Grand'Place in the heart of Lille is the meeting point for locals.
Palais Rihour is one of Lille's last examples of flamboyant gothic architecture.
Vieux-Lille is a delightful place to stroll, with its flamboyant gothic architecture with facades painted in soft colours. 
A French foodie city trip is waiting for you only a 80-minute train ride from London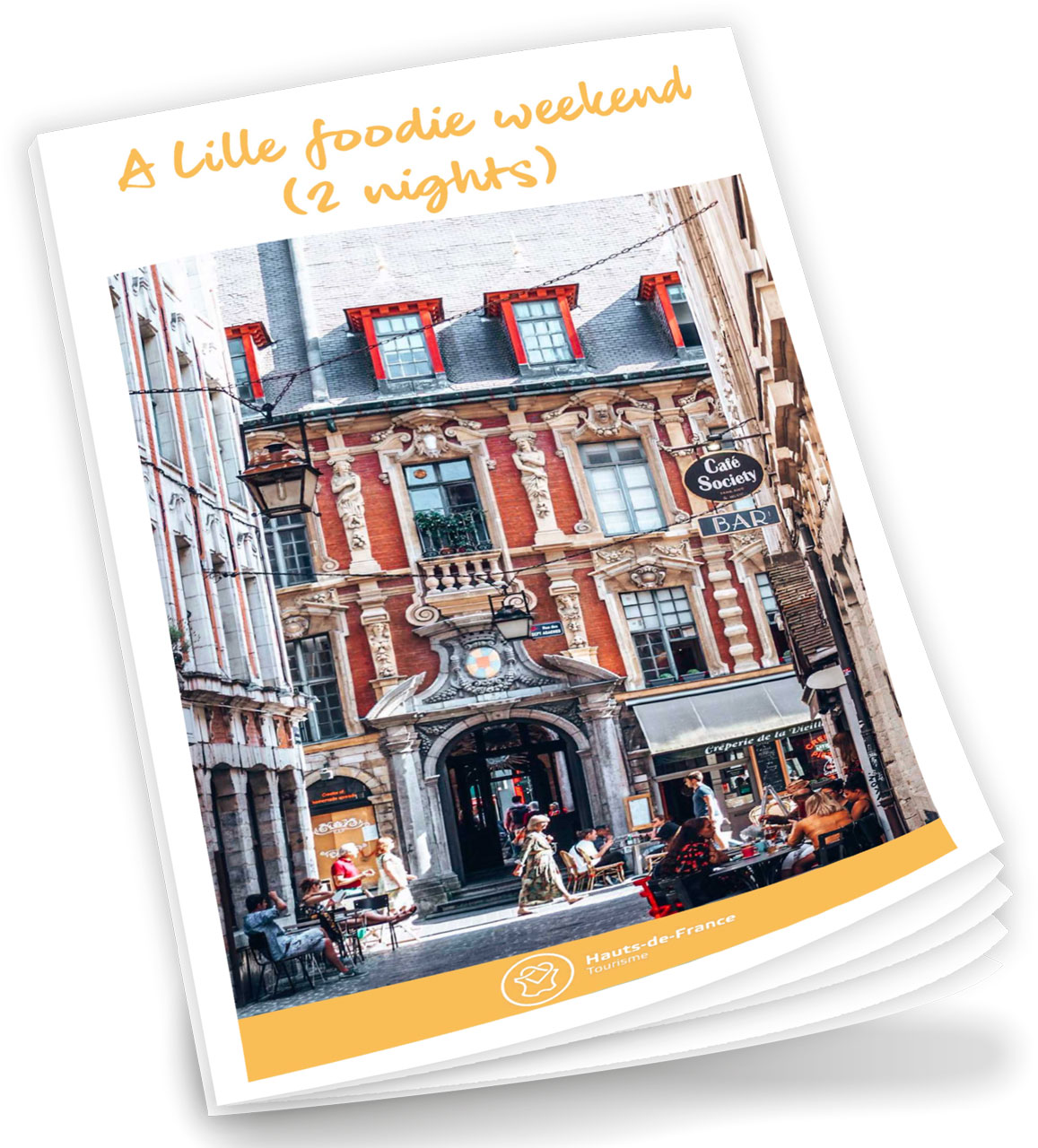 Some highlights of a stay in Lille:
- Feel the beat of old Lille: its cobbled stone streets and trendy boutiques 
- Sample the heart warming dishes of Northern France in an estaminet
- Indulge in a memorable meal at a Michelinstarred restaurant 
- Explore Lille in a more unusual way with a beer-themed treasure hunt
What to eat in Lille
Le Welsh: a Welsh rarebit with Cheddar, beer, mustard and ham. Best sampled at La Chicorée at 15 Place Rihour.
Carbonade flamande: a dish of beef braised in beer, gingerbread, brown sugar and traditional French mustard. Try it at Les Ptiots, 35 Rue de Gand.
Le Waterzooi: a stew with chicken, julienne vegetables, lemon and cream. Order it at Au Vieux de la Vieille, 2 Rue des Vieux Murs.
Le Potjevleesch: A potted meat dish with rabbit, pork, veal and poultry, in white wine or beer. Sample it at La Vieille Assiette, 24 Rue Colbert.
Cramique: a small brioche with pearl sugar. Pick some up at Boulangerie Brier, 118 Rue Esquermoise.
Merveilleux: a small cake made of meringue, Chantilly cream and chocolate shavings. Buy some at Aux Merveilleux de Fred, 67 Rue de la Monnaie.
Gaufre fourrée: a waffle stuffed with brown sugar, vanilla and rum. Best tasted at Meert, a true Lille institution, at 27 Rue Esquermoise.
How to get to Lille
Coming by car?
Lille is close to the Belgian border, about 1 hour and 40 minutes' drive from the Channel ferry and Eurotunnel port of Calais, much of it by the A26 motorway.
Getting around 
Lille city centre is closed to cars during the flea market so use public transport.
Coming by train?
The nearest train station is Gare de Lille Europe. 
The flea markets of Northern France
Enjoy the French art de vivre during Lille flea market.
Lille Flea Market dates: Saturday 2th and Sunday 3rd September 2023