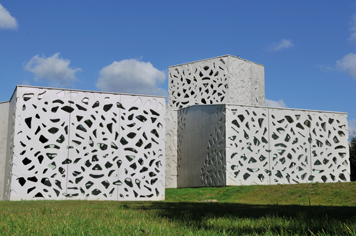 In a green setting in the city of Villeneuve d'Ascq a 20-minute drive east of Lille itself, the Lille Métropole Museum of Modern, Contemporary and Outsider Art (LaM) is unique in Europe for its focus on a combination of 20th- and 21st-century modern art, contemporary art and outsider art. 
Among the 4,500 works – including paintings, drawings,  prints,  photographs and electronic media – are masterpieces by Picasso, Modigliani, Miró, Braque and Calder. Meanwhile, the collection of outsider art or art brut is the biggest of any France museum, and the surrounding parkland is rich in sculptures.
Opened in 1983, the museum was conceived by architect Roland Simounet to house a generous modern art collection donated to Lille by textile manufacturer Jean Masurel and his wife Geneviève. Masurel, who lived in the family castle in nearby Mouvaux and then in Paris, had inherited a major collection of Cubist and other modern artworks from his uncle, industrialist Roger Dutilleul. The art brut section is based on a collection donated by the association L'Aracine in 1999.
In addition to its outstanding permanent displays, the museum hosts large-scale temporary exhibitions that make links between its three collections as well as exploring the creative process.
The Lille Metropole Museum of Modern, Contemporary and Outsider Art (LaM)
1 Allée du Musée
F-59650 Villeneuve-d'Ascq
Tel: +33 (0)3 20 19 68 68