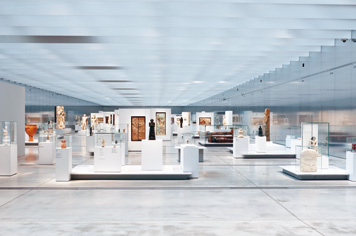 In 2012 the town of Lens half an hour north of Arras and 40 minutes south of Lille leapt to the attention of cultural aficionados around the globe when it became the second site to host a Louvre art museum. 
The Louvre-Lens showcases works on medium- or long-term loan from Paris' Musée du Louvre, a bastion of French culture. The main exhibition spaces, the Gallery of Time and the Glass Pavilion, have a permanent (but changing) exhibition of art organised chronologically, starting from antiquity and moving to the modern day. Then there is a space for three-month-long temporary exhibitions, and a digital space devoted to to the 'Backstage', which includes masterpieces currrently in storage or being restored. 
High on any art lover's list of places to visit in France, the choice of Lens as the site for the new Louvre was inspired by the transformation of Bilbao by the construction of the Guggenheim Museum. Situated on a former coal-mining yard disused since the 1960s and designed by Japanese architects SANAA alongside New York firm Imrey Culbert, French landscape architect Catherine Mosbach and museographer Studio Adrien Gardère, it won the Prix d'architecture de l'Équerre d'argent in 2013.  
The Louvre-Lens
99 Rue Paul Bert
F-62300 Lens
Tel: +33 (0)3 21 18 62 62