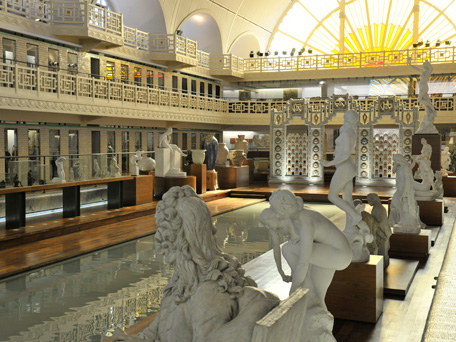 A 20-minute drive north-east of Lille, Roubaix's industrial architecture – a legacy of its status as the centre of woollen textile production in France in the 19th century – makes it the perfect spot for lovers of French culture and heritage.
Many of Roubaix's industrial sites have been repurposed for the modern world – some now house many of the city's famed factory outlets and discount clothing stores. But there's a cultural side to the city's 21st-century reinvention too. 
The most dramatic example of this is the Musée de la Piscine, which is unlike any other France museum in that it's housed in a converted former Art Deco swimming pool and public washrooms that were once used by the textile workers. Among its stunning original features are a stained-glass window depicting a sunrise.
Built by Lille architect Albert Baert between 1927 and 1932 and turned into a museum of art and industry in 2001, La Piscine's permanent displays have their origins in a collection of fabric samples from local textile factories, begun in 1835. They've now grown to embrace fashion, ceramics, ethnography and fine arts. There is also a lively program of temporary exhibitions on both historic and contemporary artists and themes.
Musée La Piscine
23 Rue de l'Espérance
F-59100 Roubaix
Tel: +33 (0)3 20 69 23 60