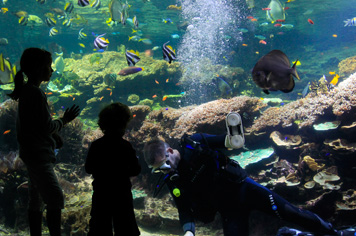 Perfectly located for families travelling to France by car, Nausicaà in Boulogne-sur-mer, the country's Centre National de la Mer is one of Europe's largest public aquariums but most importantly a world-class marine research institute, with the focus on conservation and on educating people to help preserve the oceans.
As such, it's been designated a Centre of Excellence by the UNESCO Intergovernmental Oceanographic Commission.
One of the top tourist attractions in France, especially those visiting with children, Nausicaa has grown vastly since opening in 1991. Its most popular attractions include a sealion reserve, a stingray touchpool, Penguin Beach and the Tropical Lagoon with sharks and coral reefs.
Among the best days out in France for kids, Nausicaa is perfect for those arriving or heading home via the Channel ferry port of Calais half-an-hour's drive away, as well as a must-see for those holidaying on the coast of northern France or elsewhere in the region.
Nausicaa
Boulevard Sainte-Beuve
F-62200 Boulogne-sur-Mer
Tel: +33 (0)3 21 30 99 99