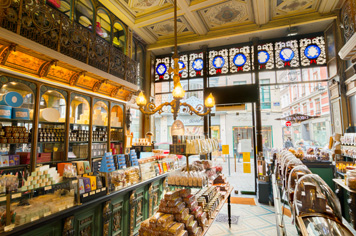 One of the tourist attractions in France, Lille combines culture, gastronomy, great shopping and a unique atmosphere stemming from the city's history as part of French Flanders. 
Nowhere is this more evident than in the impressive Grand'Place or Place du Général-de-Gaulle in the heart of Vieux Lille. A natural meeting point for locals, this vast square is also a veritable architectural showcase, with buildings ranging in date from the 17th to the 20th centuries – eight of them listed historic monuments.
Especially noteworthy is the 17th-century Stock Exchange or Vieille Bourse, comprising 24 ornate little houses, all identical, clustered around a courtyard. Step through one of the four arches to browse the secondhand book market hosted here, and to watch games of chess in action – or even join in with one yourself!
Also on the Grand'Place, the Théâtre du Nord occupies the former Grand'Garde, used to house soldiers from the sentry guard, while the Déesse (Goddess) statue commemorates the city's resistance to the Austrian siege of 1792.
The vibrant hub of the liveliest of French cities, this square with origins as a medieval wheat market continues to be the focal-point for local celebrations and events, including the Grande Braderie de Lille (Europe's largest flea-market) each first week-end of September and Christmas with its ferris wheel. Nice places in France don't come much more charming than the Lille old town and the Grand'Place – just stroll its cobbled lanes or stake a place one of the countless pavement cafés to discover this for yourself.