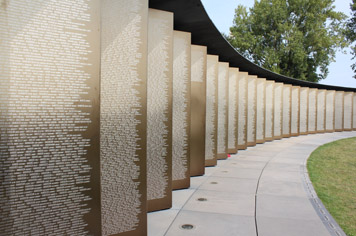 The 'Ring of Remembrance' beside the national military cemetery of Notre-Dame-de-Lorette at Ablain-Saint-Nazaire in the north of France – site of the three Battles of Artois – honours the 576,606 soldiers of 40 nationalities who died in World World One battles in the Nord-Pas-de-Calais area.
The Anneau comprises 500 three-metre-tall metal panels set on a 350-metre-long ellipital structure of concrete and stainless steel, some of which is raised off the ground – a symbolic reminder and warning of the precariousness of peace. Of these panels, 499 each bear the names of around 1,200 soldiers who fell between 1914 and 1918, while the 500th is left blank for any names yet to be discovered. 
Uniquely for a war memorial, the names are listed in alphabetical order rather than by rank or nationality, to evoke, in the words of its designer Philippe Prost, a sense of 'posthumous fraternity', to reinforce post-war unity among countries that used to be enemies, and to stress a loss that goes beyond national boundaries.
The monument – which also symbolises eternity and the cycle of life and death – was inaugurated by French president François Holland on Armistice Day ( 11 November) 2014.
The Ring of Remembrance
Chemin du mont de Lorette
F- 62153 Ablain-Saint-Nazaire
Top Northern France Tourist Attractions