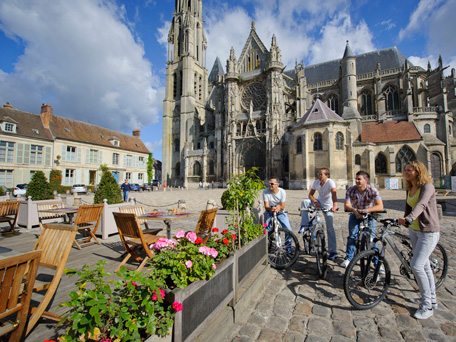 One of France's oldest – and also one of its smallest – cathedrals, Notre-Dame in the compact city of Senlis east of Chantilly has slowly transformed over four centuries and as such provides an excellent insight in the evolution of the French Gothic style.
Construction began in 1153, under the reign of Louis VII, when Senlis was a royal city of the same statute as Paris, Compiègne, Pontoise and Poissy. The cathedral's west façade and apse evidence the restrained primitive gothic style of that time. Don't miss the first representation of the Virgin's coronation on the western portal, the sculptures of which are currently being restored to their original colour.  
Extension work in the 13th century brought the addition of a transept, while the south tower was embellished by a High Gothic spire.  And after a fire in 1504 brought down roof timbers, reconstruction work included the building of the south façade in the Gothic Flamboyant style of that period.