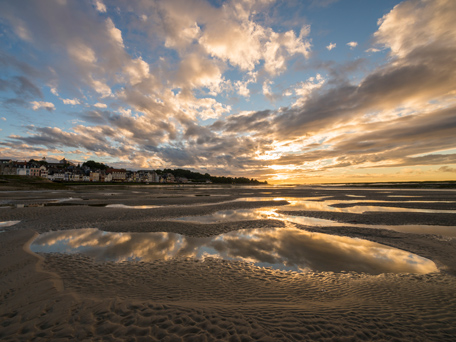 A spectacular and quite wild area of open water, dunes, marshes and saltwater meadows sprinkled with charming villages and small-scale coastal resorts, the estuary of the Somme River is a prime spot for a weekend in Northern France, within just a 90-minute drive of Calais. 
It's also a foodie paradise, especially for lovers of seafood.
For those looking for a relaxing weekend in France and a change of scenery, the Somme Bay with its powerful tides offers amazing ever-changing vistas, fantastic light that has influenced painters including Delacroix, Degas and Corot, and a landscape where sea, sky and land often seem to merge. Renowned for its ecological diversity, it is part nature reserve (the Parc du Marquenterre) and one of the best birdwatching sites in all France.
The area's most well-known village is delightful Saint-Valery-sur-Somme, where along with cobbled lanes, medieval ramparts, a Gothic church and a riverside boardwalk you'll find the starting point for the Chemin de Fer de la Baie de Somme, a Belle Epoque narrow-gauge railway that takes in the length of the bay.
Tourist Office
1 Place de l'Amiral Courbet
F-80100 Abbeville
Tel: +33(0)3 22 24 27 92