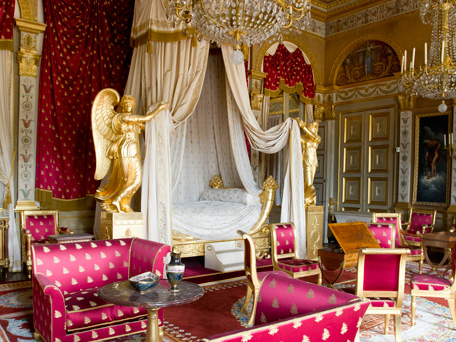 As regal and as romantic as can be, Compiègne Castle in the delightful town of the same name was built for Louis XV,  who loved hunting in the nearby forest, and later served as a residence for Napoleon I and Napoleon III. 
A tour of the royal apartments will reveal to you these fascinating layers of history.  The lavish rooms include Empress Marie Louise's chamber with its famous view along the Percée des Beaux-Monts – an avenue leading out into the forest, created by Napoleon I to remind his spouse of Schönbrunn Palace in Vienna.
The castle is also home to two other museums: the Musée de l'Impératrice, with artworks and objects relating to the Second Empire, and the Musée National de la Voiture et du Tourisme, with a magnificent array of horse-drawn vehicles, bicycles and and early automobiles.
Refuel after your visit in the tea-room, located in the estate's charming rose garden.
Château de Compiègne
Place du Général de Gaulle
F-60200 Compiègne
Tel: +33 (0)3 44 38 47 00