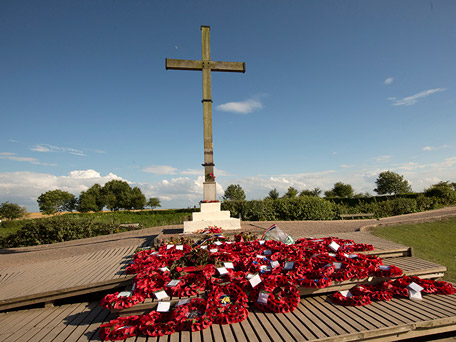 The most dramatic remnant of 17 mine explosions that were engineered beneath the German frontline to disorientate the enemy forces on on 1st July 1916, Lochnagar at La Boisselle just north-east of Albert (on the Somme battlefields) measures 91 metres across and 21 metres in depth.  As such, it's the largest man-made mine crater created on the Western Front.
Dug by the Tunnelling Companies of the Royal Engineers, the site takes its name from Lochnagar  Street, the British trench from which the initial 270-metre shaft down into the chalk was sunk. The tunnel itself stretched 314 metres under a German strongpoint called Schwaben Höhe.
Packed with 27,216kg of ammonal in two charges, the mine was sprung at 7.28am on the first day of the Battle of the Somme. Sending debris about 1,200 metres into the air, it created what was then the loudest man-made sound in history.
After the explosion,12 battalions of the British 34th Division of III Corps division operating in this sector, each with about 700 men, went into attack. But although the mine had obliterated between 91 and 122 metres of the German dug-outs, thought to have been full of troops, the defenders found well-placed positions to fire. Within only 30 minutes, hundreds of British soldiers were dead or wounded. 
Not formally maintained, the crater was purchased by Briton Richard Dunning in 1978 in order preserve the site and make it a Garden of Remembrance where visitors to the Somme can find a calm space for reflection. Free to visit, it is encircled by a wooden walkway. 
A memorial dedicated to the men and women of all nations affected by World War I, Lochnagar Crater hosts a commemorative service beside its wooden cross each 1 July.
Lochnagar Crater and the 1st July Commemorations 
F-80300 La Boisselle
Tél. : +33 (0) 3 22 71 22 71