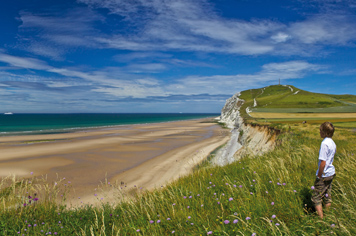 The closest points in France to the British coast, Cap Gris-Nez and Cap Blanc-Nez – which together comprise the Grand Site des Deux Caps nature reserve – are fantastic for clifftop walks, fresh air and outdoor activities, as well as the chance to see your own country from a new perspective
Despite being a mere half-hour drive from the Channel ferry port of Calais, Les Deux Caps has an otherworldly feel that makes it a wonderful part of the French coast for those who want a break from routine and the opportunity to make new discoveries – and especially for those who like to nature watch. The Caps are famed for their birdwatching, but you're also likely to spot some grey seals.  
Indeed, because the UK was joined to the Continent until the last Ice Age, this area shares certain plants and wildlife with Britain while also having a few that are distinct. You can learn more via the displays at the Maison du Site des Deux-Caps within a converted barn in Audinghen, which also offers bike hire (classic or electric) for those keen to discover the area at their own pace. 
Alternatively, between April and November, the Maison du Site runs Nordic walking excursions and guided walks during which local experts share their intimate knowledge of this fascinating area, from its history to its preservation with the help of local fishermen and shepherds. 
Or if you prefer to strike out independently, there are well-marked footpaths: the 5.6km Sentier d'Onglevert, the 7.2km Sentier d'Odin and the 0.7km Belvédères – the latter perfect with wheelchairs or buggies. One must-see while discovering Les Deux Caps is Motte du Bourg, a former sea-cliff overlooking the Tardinghen marshes between Gris-Nez and Blanc-Nez, with fabulous cross-Channel views.
Parc naturel régional des Caps et Marais d'Opale, La Sence, 
F-62179 Audinghen
Tel: + 33 (0)3 21 21 62 22