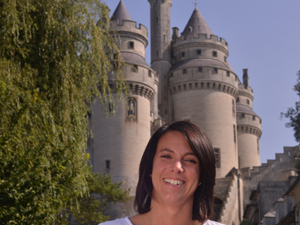 "
Born in Compiègne, I like nothing better than helping tourists discover the variety of landscapes and attractions in and around Pierrefonds.
My insider tips
Cycling in the forest
When you get into town the first thing to do is organise some bike hire. You can rent bikes to help you discover the 14,000 hectares of forest which surround you.
There are miles and miles of safe and well-marked bike paths to help stretch those legs! Bike hire is available from the campsite 'Le Coeur de la forest' which is on your left just before you arrive in town. Also – get your French pastry hit here in the Vanille et Chocolat bakery which is very popular among locals!
Tip taken from :
Dinner without much time?
If you need to find a good quality restaurant quickly, look no further. My recommendation is the very good meal you will find at the Hotel Beaudon which looks right over the lake and the chateau of Pierrefonds. This is only a quick drive from your accommodation, and you are sure to eat well. I have heard that the apple tart with salted caramel is not to be missed!!! If you have the time, don't miss a little turn on the pedal boats on the lake.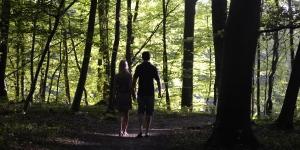 Couple
Recharge your batteries in the heart of Compiègne Forest
Starting at Compiègne racecourse, this bike ride along the cycle paths will take you to the heart of the forest in order to reach the charming village of Pierrefonds, dominated by its magnificent château straight out of a fairy story. Used as a location for shooting many films and TV programmes, you may have seen it in the BBC series "Merlin".
Tip taken from :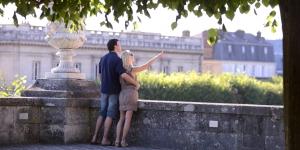 Couple
Leisurely strolls in the Château de Compiègne Park
Walk hand in hand through the park of Imperial Palace in Compiègne and marvel at the superb rose garden. Make sure you don't miss out on the stunning "allée des Beaux-Monts", an impressive 5 km path leading into the forest, a starting point for walks and hikes as well as a splendid viewpoint to capture the moment on camera forever!!!!
For lovers of fine food I heartily recommend a poetic afternoon snack at the "Jardin des Roses" Tea Room on the château terrace.
Tip taken from :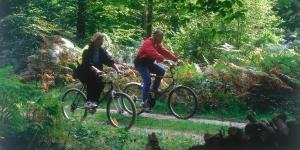 Couple
Bike riding in Compiègne Forest
What better way is there to get back to nature than pedalling through the heart of a forest? You'll be staying in Saint-Jean-aux-Bois, situated in the heart of the biggest forest in Picardy: The national forest of Compiègne.
What I really love is there are a number of ways of discovering this natural paradise: walking, riding a bike, on horseback… depending on how fit you are: strolling hand in hand or jogging; and also on how you feel: observing nature, fauna and flora or quite simply enjoying the fresh country air and the peaceful surroundings.
A friend told me that one day when he was riding through the forest early in the morning to experience the freshness of the mysterious mist, he came across a rather surprising sight! There he was, right in the middle of the forest when suddenly a stag ambled across the path. Can you imagine what he thought? Most certainly an unbelievable experience…
Tip taken from :
Couple
Dining out in Pierrefonds??
Let me give you the name of the restaurant here I love the most for a superb dinner made even better by the views of the lake and the Château de Pierrefonds: "Le Beaudon". Cyril and Martine reserve a warm welcome and a smile for their guests in a sublime setting. They'll take great pleasure in serving you their fine culinary fare. If the weather's fine, head for the terrace where the views are stunning!
And for dessert, try my favourite: their "tarte aux pommes au beurre salé" (apple tart made with salt butter). Yummy… Sheer pleasure!
Tip taken from :
"
I've always lived close to the national forest of Compiègne and it means a great deal to me. For my two daughters and I it's our favourite place for a walk. Whether you walk or ride a bike it's also a way of going to Pierrefonds and its magnificent château, Compiègne and its imperial palace as well as villages such as Saint-Jean-aux-Bois, one of the quaintest you're ever likely to see.