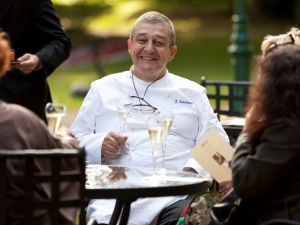 "
A little over 70 years old, Mr. Constant is a proprietor who is present and active for his establishment. Head of this empire, his domain possesses unprecedented characteristics: "We are lucky to be located close to numerous historical sites and to benefit from the attraction of the Louvre-Lens and partner tourist offices".
With the strength of its proprietors' savoir-faire, the Domaine de la Chartreuse hosts numerous private events such as marriages in a magical setting. Here, the art of receiving are not empty words. A discreet yet very professional staff, attentive without excess, is the true measure of a well-run "home".

"
Passionate about the good life and being in nature, Mr. Jean Constant, restaurateur by profession, has been at the head of the Chartreuse du Val St Esprit in Gosnay for over 30 years. Self-taught, he built his own experience in the hotel industry. In 1986, with his wife Armelle, he purchased a former Carthusian monastery whose origins dated back to 1320 and successfully transformed it into a 4-star hotel. So doing, he succeeded in enhancing and perpetuating the "Chateau Gamot", the former family home of industrialists who held the town's position as mayor for over a century.