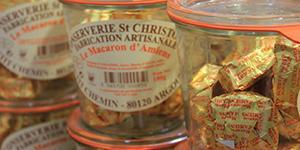 Picardy goodies at the Comptoir des Produits Régionaux de Saint Quentin
I love nothing better than going to the "Comptoir des produits régionaux" (a shop selling regional produce) situated right in the middle of the charming rue Emile Zola, just a two minute walk from the "Place de l'Hôtel de Ville" of St-Quentin.
Greeted by Alexandra's smile and pleasant personality, visitors can discover a very wide range of regional produce, mainly made by small-scale producers, and always sourced locally.

And what about me you may ask? Well, I'll let you in on a little secret: I really like taking my friends by surprise when they're buying little known beers (such as "Bière à l'Aster Maritime" from Le Crotoy which is just amazing!). You can even find great gift ideas!
Conseil extrait de:
Par : Julien LECLERCQ