Just a short hop across the Channel, Northern France is a wonderful place to get into the festive spirit while stocking up on French gifts for Christmas.
Some of Europe's best Christmas markets beckon in Northern France, offering all kinds of inspiration for festive souvenirs lovingly made in France – as well as delicious regional treats to sample as you browse the charming stalls with their artisan wares including hand-made jewellery and wooden toys. Convivial events with a family feel, French Christmas markets also feature illuminations, Christmas trees, visits by Father Christmas or Santa's grottoes, and festive entertainment for parents and chil-dren alike.
But Christmas markets aren't the only place to shop for Christmas presents in Northern France – you can also find them in the region's countless excellent boutiques or even in the makers' studios or factories themselves. Other great places in the region to pick up upmarket French gifts for Christmas or for use in your own home include: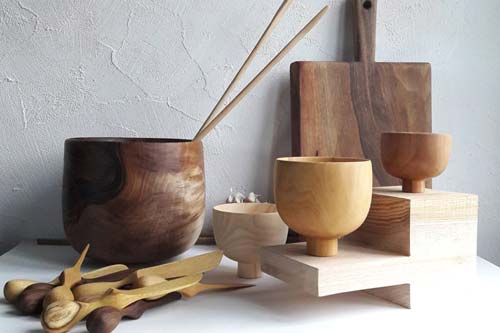 Kermesse Sauvage
Great products made in the region to take home as upmar-ket Christmas gifts or for use in your own home include the delightful wooden kitchen utensils made by Kermesse Sauvage, which are popular with many of France's Michelin-starred chefs for the way they bring out their dishes and add drama and poetry to dining tables. 
Nature is very trendy in the world of table decoration right now – and indeed, what could be lovelier than enjoying festive sharing dishes served on natural materials that were also used by our ancestors? Inspired by the region's forests, Kermesse Sauvage's sculptor Florence Vandenhende lovingly crafts each piece by hand, creating one-off pieces from beech, walnut, maple, cherry and ash from the forest of Crécy-en-Ponthieu right by her workshop on the outskirts of the Baie de Somme. The beautifully rendered dishes, plates and covered bowls are all authentic, organic and raw – and prices are very reasonable.
Atelier boutique "effet mer" -
Kermesse Sauvage
- 21 Grande Rue, F-80460 Ault - Tel : +33 6 15 68 33 47
Le Creuset
Another local kitchen producer – this one very well known and popular around the world – is Le Creuset with its enamelled cast-iron cookware. Despite its global success, the firm has remained in its birthplace, the small town of Fresnoy-le-Grand between Amiens and the Belgian border – a place also known for its role in World War I, when 15 trains full of English and Scottish forces arrived here in August 1914, en route to the Battle of Mons, which was the first major action of the British Expeditionary Force in WWI.
Visit Le Creuset both for tours of the production facilities and to stock up on its famous casse-role dishes and other kitchenware at factory prices. They're fantastic for Christmas presents for ama-teur chefs who want to up their game – as attested by generations of home cooks, many of our grandmothers among them, who used them for sauces and other dishes the very smell of which evokes a heady nostalgia. But Le Creuset has kept up with the times too, re-launching existing prod-ucts in an ever-growing range of bright colours, modernising its design and bringing out new collec-tions, all of impeccable quality.
Le Creuset
- Rue Olivier Deguise- F-02230 Fresnoy le Grand - Tel : +33 3 23 06 22 45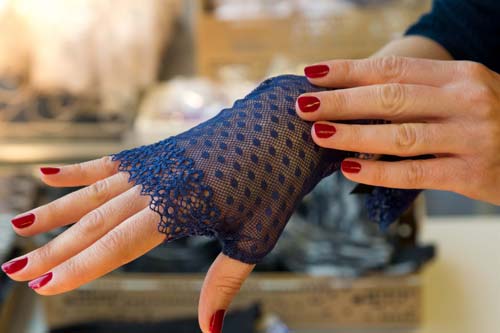 Calais-Caudry® lace
The kitchen aside, other great Christmas present ideas based on the region's products in-clude Calais-Caudry®  lace. Undeniably chic and glamorous, this delicate and luxurious fabric with deep roots in Northern France counts among its fans Grace Kelly, the Duchess of Cambridge – who wore it at her wedding – Michelle Obama and Hillary Clinton. It's been produced by generations of expert artisans on historic Leavers machinery – 80% of which can be found in the Calais–Caudry area. 
Each of these towns has its own museum complete with a boutique where you can't fail to find a special Christmas gift, whether it be a dress, a blouse, mittens, a stole, a hat, a bag, or a ta-blecloth or other table settings. Or for something more elaborate or tailor-made, simply ask staff as they will happily recommend local producers.
Cité Internationale de la Dentelle et de la Mode de Calais - 35 Quai du Commerce F-62100 Calais – Tel : +33 3 21 00 42 30
Lady Haberton
Alternatively, take a look at Lady Haberton's classy Messenger bags – chic leather affairs designed with urban cyclists in mind. Find them at the showroom at 87 Rue de Fontenoy in Roubaix near Lille, or in Roubaix tourist office (
Lady Haberton
- 7 rue du chemin de fer, F-59100 Roubaix - Tel : +33 3 20 65 31 90)