The cosy gypsy caravan at Maison de l'Omignon is a wonderfully unusual place to stay in France, right on the banks of the river

The gentle sound of the river which passes almost at the foot of your gypsy caravan: relaxing!

Guests can't wait to try out the Nordic spa on their gypsy caravan holiday ‒ effectively a hot tub but wooden so blending more seamlessly with nature

The hot tub by candlelight ‒ what could be more romantic on a gypsy caravan holiday or on a stopover night to your ski holiday!

Maison de l'Omignon's gypsy caravan: a magically unusual place to stay in France

Cosy dinner for two at Maison de l'Omignon 'roulotte' (gypsy caravan) near St Quentin in Northern France

Cosy and candlelit dinner for two at Maison de l'Omignon 'roulotte' (gypsy caravan) near St Quentin and the A26 motorway in Northern France

Spending the evening together at Maison de l'Omignon's gypsy caravan in Northern France couldn't be more romantic

The snug sleeping corner on your gypsy caravan holiday for a great night's sleep

The delicious dinner Nicole makes and delivers to your door

Maison de l'Omignon gypsy caravan is the perfect place to toast togetherness

What a treat to have dinner brought right to your door on your gypsy caravan!

With nothing to concentrate on but each other and Mother Nature, a night at Maison de l'Omignon's glamping caravan in Northern France is pure quality time

Take the notion of cosy to the next level on a 2-night stay, opting for dinner in Maison de l'Omignon's Finnish 'kota-grill cabin

On a 2-night stay at this unusual place to stay in France, you can opt for dinner in Maison de l'Omignon's Finnish 'kota-grill cabin

Discover St Quentin's Art deco architecture and heritage
Gypsy caravan holiday inc dinner-to-your-door & Scandi spa
Whatever you choose to call it ‒ a wagon, a roulotte, super-quirky accommodation or a luxury glamping experience ‒ it's not hard to see the appeal of a gypsy caravan holiday at Maison de l'Omignon near St Quentin, firmly amongst the most charming and unusual places to stay in France. Soaking up the sun on your front step, coffee in hand, river at feet, you and your loved one (and pet too if you like, dogs are welcome!) can feel yourself almost instantly relaxing into the romany spirit of timeless romance and freedom.
Deal includes
- 1 night in a traditional roulotte (glamping gypsy caravan) for 2 people
- Breakfast for 2 people
- Dinner for 2 people delivered to your door. It's all served in Le Creuset mini dishes and includes a bottle of champagne. Please let Maison de l'Omignon know in advance if you require a vegetarian meal
- Fresh flowers and candles in your gypsy caravan
- A dip in the Nordic spa hot tub for 2 people
- Tourist tax
- SAFETY MEASURES in place, in light of Covid 19:
- Guests are asked to adhere to Maison de l'Omignon's safety measures (wearing of masks, social distancing, regular hand washing, etc…). Antibacterial hand gel is available
- Accommodation and sanitary facilities are thoroughly disinfected and ventilated
- Breakfast and dinner to be eaten in the gypsy caravan (Alternatively, if you have chosen to book one of Maison de l'Omignon's cabins, meals can be eaten on the cabin terrace or in the main building, where guests are asked to adhere to appropriate social distancing.)
- The outdoor Nordic spa hot tub is regularly filtered, cleaned and treated
But who said glamping was just for the sunny seasons? Not so here! THIS gypsy caravan is not only heated and super-cosy but has an all-seasons candlelit Nordic hot tub to indulge in ‒ how hygge is that?! ‒ making a romantic weekend break here a great way to see you through the cold, dark months.
And take a look at the map of France and you'll notice there's something particularly convenient about Maison de l'Omignon's location; 2 hours from Calais, it's really close to the A26 motorway making it an ideal place to stop for the night en route to your ski destination. With bags more character than your average ski stopover hotel, staying in a gypsy caravan means the journey can be enjoyed, not endured!
The gypsy caravan owners Nicole and François are the kind of people who always go the extra mile (and a half) to make sure your stay is everything you need it to be ‒ as you'll discover when they press a glass of local apple juice in your hand on arrival, chatting away to make sure you know everything you need to about this stunning part of Northern France. Shopping, cafés and markets are only 20 minutes away in St Quentin (an authentically off-the-radar Northern France town known for its Art deco architecture), you're in WW1 territory here too (so there are many poignant memorial sites to discover) or if you want to simply immerse in the great outdoors, Nicole and François can give you all the lowdown on canoeing and cycling.
And your glamping experience has just one more thing up its sleeve, and pretty special it is too… Breakfast is included in your gypsy caravan holiday ‒ as indeed you might expect ‒ but here at Maison de l'Omignon, so too is dinner, delivered to your door (complete with a bottle of champagne!) so that you can continue the spirit of romance snuggled up in your little love nest. Life doesn't get much cosier than this…
Meet Your Host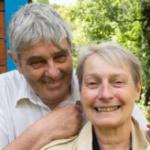 Nicole
Host, La Maison de l'Omignon
Enter into the free spirit and timeless romance of a night in a gypsy caravan at Maison de l'Omignon in Northern France. You'll receive the warmest of receptions and as we...
Read more
Cette offre n'est plus disponible
from
225260 €
Enquire