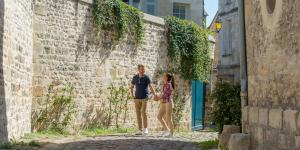 Visit Senlis village
Senlis is a town of the Oise department, located 30 minutes from Paris and 2hrs 15mins from Calais. It is nestled in the heart of one of the largest forests of the north of France and provides the ideal destination for couples seeking to escape for a weekend combining nature and romance!

Streets with cobblestones, walls covered with ivy, private mansions, built one beside the other, quiet outside seating areas adorned with flowers, elegant boutiques with front windows from another era…

Roaming through the streets of Senlis is like leafing through a history book :-) After being part of Gaul and, subsequently, the Roman Empire, Senlis is the town where the Capetian dynasty established itself. It was never destroyed and is therefore layered with the remnants of each era. Its ancient walls weave among the Renaissance houses, encircle the cathedral and lead you to the different museums of the town, which can be found right next to the cathedral!

Try the restaurant Le scaramouche with a view of the Senlis Cathedral.
Conseil extrait de:
Par : Fanny FRANCOIS