The phrase 'best of both worlds' is one that's bandied about here, there and everywhere, but here's a small hotel in Senlis, France, that truly delivers on that… twice over. First off, 'La Bohème' is a best of both worlds for its location – only 20 minutes from Paris- CDG airport yet a million miles away for its quiet cobbled streets and small-world charm. La Bohème is also the best of both for the fact that it's not just rooms here but a popular little French bistro too, with 60 euros towards dinner included in the cost of your stay. We haven't even touched on the hotel's style yet – understated vintage chic at its best, care of owners Caroline and Nicolas and their eagle eye for design.
Cette offre n'est plus disponible
from
145169 €
Deal includes
- 1 night for 2 people in room number 2 at La Bohème
- French-style breakfast for 2 people
- A voucher to spend 60 euros at La Bohème restaurant (lunch or dinner, valid between Thursday evening and Sunday lunchtime)
- A complimentary apéritif (a local beer, a glass of wine, or a soft drink)
Enquire
Meet Your Host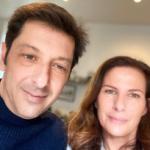 My husband Nicolas and I look forward to welcoming you to La Bohème in Senlis, our truly picturesque little French town near Paris.
Read more