Wrought iron and red brick: your first glimpse of Villa Varentia in Villers Bretonneux, Northern France

Serious kerb appeal at Villa Varentia, your boutique B&B on the Somme remembrance trail in Northern France

Villa Varentia's entrance hall where period features meet modern art

A boutique-chic decor in the salon at Villa Varentia in Villers Bretonneux, Northern France

A boutique-chic decor in the salon at Villa Varentia in Villers Bretonneux, near Amiens in Northern France

Your boutique B&B in Northern France boasts this luxurious pool

Perfect for romantic weekend breaks or tours on the WW1 remembrance trail, your boutique B&B in Northern France boasts this luxurious pool

Your boutique B&B in Northern France boasts this luxurious pool. Better still, your deal includes a bottle of champagne!

The jacuzzi at Villa Varentia near Amiens in Northern France is the perfect place to press pause and get the much needed zen factor

The jacuzzi at Villa Varentia boutique B&B in Northern France is the perfect place to press pause and get the much needed zen factor

The jacuzzi at Villa Varentia B&B in Northern France is the perfect place to press pause and get the much needed zen factor

The modern, on-trend and elegant decor of Villa Varentia's 'Belle de Nuit' room

The modern, on-trend and elegant decor of Villa Varentia's 'Belle de Nuit' room

The Belle de Nuit room's luxury bathroom has a beautiful walk-in shower

Soft tones and beautiful lighting in Villa Varentia's 'Louise Bonne' room - perfect for romantic weekend breaks

Soft tones and beautiful lighting in Villa Varentia's 'Louise Bonne' room - perfect for romantic weekend breaks

The Louise Bonne room at Villa Varentia in Villers Bretonneux, Northern France

Luxury-branded complimentary toiletries add a layer of indulgence to your weekend break at Villa Varentia boutique B&B near Amiens

Villa Varentia B&B in Villers Bretonneux, as seen from its beautiful gardens

With its own orchard and vegetable gardens, leave time on your romantic weekend break to explore Villa Varentia's lovely outdoor setting

Polished period features characterise Villa Varentia's style, like the grand sweeping staircase and chequered parquet floor

Villa Varentia's elegance is in the fusion of period features and modern touches

Stylish touches leading to the bedrooms at Villa Varentia, as if lifted from the pages of an interiors magazine

Breakfast at Villa Varentia boutique B&B in Villers Bretonneux will set you up for a day exploring the WW1 Somme battlefields

Breakfast at Villa Varentia boutique B&B in Villers Bretonneux will set you up for a day exploring the WW1 Somme battlefields

If you don't want to go out to eat, why not order a gourmet dinner hamper from your host at Villa Varentia?

Villa Varentia is right at the heart of the Somme battlefields. Visit the WW1 memorial in Villers-Bretonneux

In Beaumont-Hamel on the WW1 remembrance trail, you can still see remains of the trenches

The soaring Thiepval memorial on the WW1 remembrance trail is a sight to behold. It's engraved with the names of Allied soldiers killed during the battle with no known grave

Albert basilica in Northern France

Sunset over Amiens cathedral

Amiens cathedral is a must-see stop on your trip to Northern France, just a short drive from Villa Varentia

Place-du-Don on the waterside in Amiens, with its view of the cathedral

Quai Belu in Amiens. Start here to explore the colourful and characterful St Leu district, like the Venice of the north

There's a lively and convivial atmosphere at the bars and restaurants in Amiens' St Leu district

Hire a boat to explore Amiens' unique floating gardens, known as the 'Hortillonnages'

Hire a boat to explore Amiens' unique floating gardens, known as the 'Hortillonnages'
Boutique B&B with pool nr Northern France Somme battlefields
What was it you had in mind for your trip to Northern France? A revitalising and romantic spa retreat for two? Or maybe an extra special place to stay for your bucket-list trip to the WW1 Somme battlefields? Either way - or to do both in one hit - you "might" just want to have a look at Villa Varentia in Villers-Bretonneux, near Amiens. Officially a B&B or 'Maison d'hôtes', but to all intents and purposes a small luxury boutique hotel with stunning pool and jacuzzi, we think you'd agree that these images speak for themselves.
Deal includes
- 1 night for 2 people in the 'Belle de Nuit' room or the 'Louise Bonne' room
- Breakfast for 2 people
- Use of the heated pool and jacuzzi subject to current health regulations
- A bottle of champagne with local delicacy appetisers
- Tourist tax
- SAFETY MEASURES in place, in light of Covid 19 :
- Mask and gloves will be worn by your host on arrival and on departure. You will also be required to wear a mask when with your host
- Antibacterial gel and masks will be available in your room
- Social distancing will be respected in the breakfasts room
- Dinner (packed meals) in your room, in the breakfasts room or in the garden (optional)
- The rooms are thoroughly sanitised including all frequent-touch surfaces
- Internal and external communal areas are all thoroughly sanitised
- Towels, household and bed linen are washed at 60°
- Indoor pool is daily disinfected and spa is disinfected after each use
- The accomodation will be ventilated
You'll love
- The high-end quality of the bedding !
- The beauty of the guest house
- Unlimited relaxation in the pool and spa
- Amiens and the Remembrance Trail nearby
With modern touches and period features (sweeping staircase, Art deco windows, chequered floor and high ceilings) you could be forgiven at Villa Varentia for thinking you've been transported to a chic Parisian apartment.
Alice-Anne's careful eye for detail extends to the bedrooms too; take a look at the beautifully appointed Belle-de-Nuit and Louise-Bonne rooms, each with corner office, walk-in shower, flat screen TV, Wifi, welcome tray, luxury bedding and elegant bathroom fittings.
You can also look forward to the luxury heated pool and jacuzzi, a complimentary bottle of champagne, and the gorgeous breakfast - and if you want to make your stay one notch more indulgent, simply book a massage or dinner hamper in advance.
And the location? Well, here you're right at the heart of the Somme battlefields so it's the perfect time to discover the WW1 remembrance trail at sites like Thiepval, the Great War museum in Péronne or the Sir John Monash visitor centre in Villers Bretonneux.
Meet Your Host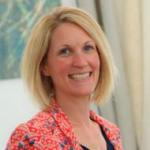 Alice Anne
Host, Villa Varentia
Our boutique B&B in Villers-Bretonneux - Villa Varentia, dating from the 1900s - is a true haven of peace. Cross the threshold of its deep-red front door and you will be...
Read more
Cette offre n'est plus disponible
from
188220 €
Enquire