You're not alone if you sometimes get sick of the sight of your own four walls, so it can be good to remind yourself from time to time how restorative a simple change of scenery can be - even if that somewhere is close to home. If that's where you're at, why not push the staycation boundaries just one small step further by crossing the Channel and driving an easy 50 minutes on from Calais to a gorgeous rural retreat near the coast of Northern France. With its New England style décor, a bounteous French breakfast - and both coast and country on your doorstep - nothing's going to press your reset button quite like a romantic weekend break at boutique B&B with pool and spa Le-Clos-du-Miroir, a truly exceptional place to stay near Le Touquet.
Cette offre n'est plus disponible
from
92110 €
Deal includes
- 1 night at Clos du Miroir B&B for 2 people
- Breakfast for 2 people either served in the main house or - weather permitting - on the outdoor terrace
- Full access to the heated indoor pool and hot tub (towels provided)
- SAFETY MEASURES in place, in light of Covid 19 :
- Bedrooms, internal and external communal areas are all thoroughly sanitised and ventilated
- Preventative measures and physical distance will be respected
- Breakfast will be delivered to your room.
Enquire
Meet Your Host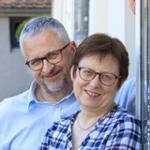 Michel
Host, Le Clos du Miroir
Coast and countryside collide here at Le Clos du Miroir boutique B&B near Le Touquet in Northern France. Surrounded by gently rolling hills and with the sea close by, you...
Read more