Ask people which places in France are on their bucket list and you can bet your bottom euro that Paris is on there, maybe the Alps, Mont St Michel, and most definitely a visit to France's champagne vineyards, to savour (and let's face it, stock up on) the world's most celebrated fizz. But instead of heading to the big-name brands and champagne honeypots of Epernay and Reims, make a beeline for champagne's 'petits producteurs' vineyards (small in volume but big in quality) off the beaten track around the town of Château Thierry. A 3-hour drive from Calais (or only 1 hour from Paris if you're visiting the capital too), a relaxing stay for two at the Best Western Ile de France - a gorgeous luxury hotel near Reims in France with spa and restaurant - could be your biggest clink yet on that French bucket list.
Cette offre n'est plus disponible
from
187220 €
Deal includes
- 1 night for 2 people in a superior room at the Best Western Ile de France hotel.
- Breakfast for 2 people
- 3-course dinner for 2 (starter, main course, dessert)
- A complimentary half-bottle of local champagne in your room
- Unlimited use of the wellness centre including pool, hot tub, sauna, gym.Towels are provided
- SAFETY MEASURES in place, in light of Covid 19:
- The hotel wishes to reassure guests of its protective hygiene measures including its robust cleaning procedures in bedrooms.
- Antibacterial gel is made available
- Face coverings to be worn in communal areas
Enquire
Meet Your Host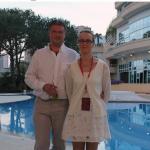 CAROLINE
Host, Hôtel Best Western Ile-De-France
My husband, my children and I arrived in Château-Thierry towards the end of 2009. Having previously been restaurateurs in the north of France, we totally fell for Hôtel Ile...
Read more