La Chartreuse du Val Saint Esprit, Northern France

Garden, La Chartreuse du Val St-Esprit, Northern France

Luxury room, La Chartreuse du Val St-Esprit, Northern France

La Chartreuse du Val Saint Esprit

Bar, La Chartreuse du Val St Esprit, Northern France

Gourmet restaurant, La Chartreuse du Val St-Esprit, Northern France

Kitchen, La Chartreuse du Val St Esprit, Gosnay, Northern France

Garden view of La Chartreuse du Val St-Esprit hotel, Gosnay, Northern France

Garden view, La Chartreuse du Val St Esprit, Gosnay, Northern France

Courtyard, La Chartreuse du Val St Esprit, Northern France

Vegetable patch, La Chartreuse du Val St-Esprit hotel, Gosnay, Northern France

Vegetable patch, La Chartreuse du Val St-Esprit, Gosnay, Northern France
Plunge into decadent France, a rural chateau near Calais
A perfect place for that all important first or last night in France at one hour from Calais on the A26 near Arras, this is a place where you are forced to slow down, relax and live in the moment. In the heart of northern France's countryside lies this gracious hotel with real charm and presence. With three onsite restaurants, extensive grounds and potager one night will not be enough…
Deal includes
- 1 night accommodation in a Privilege room
- Delicious breakfast
- SAFETY MEASURES in place, in light of Covid 19 :
- Mask and gloves will be worn by the staff (including maids) and anti-bacterial gel is available at reception, restaurants, hall and meeting rooms
- Visor and gloves are worn by the chefs in the kitchen
- Internal and external communal areas are all thoroughly sanitised
- Bedrooms remain vacant for a minimum of 24 hours between bookings.
As you drive in the gates, you know you have found something special. This decadent rural retreat à la française is the place to come to wind down, relax and let yourself be transported to another world. The 18th century domaine with a beautiful façade and classic interiors is as perfect for a stopover boasting 3 onsite restaurants – French gastronomic, French brasserie and International bistro.
Unwind after your drive with a glass of wine in the grounds or in the lounge. Stroll around the potager and see the produce you will find on your plate in the evening, you might even run into one of the chefs! If time permits add a day to visit Arras and its spectacular town squares, or tour the local farm gates for cheese, honey, fruit and vegies.
At night you will sleep well in a sophisticated, elegant and cosy room which keeps its connection with history, think rich reds, yellow and royal purple.
Meet Your Host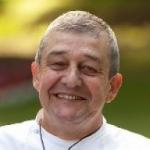 Jean
Host, La Chartreuse du Val Saint-Esprit
A little over 70 years old, Mr. Constant is a proprietor who is present and active for his establishment. Head of this empire, his domain possesses unprecedented...
Read more
Cette offre n'est plus disponible
from
197228 €
Enquire